Travel the Old Red Old Ten Scenic Byway for many exciting things to see and do. Load up the family or take a trip on your own to explore the "Other Freeway!"
Almont / Sims History
Lat:46.7722 Lon:-101.498
www.sims-almont.us

It was the Northern Pacific Railroad builders, moving westward from Bismarck in the years following 1878, who get credit for naming Almont. In the days of single–track railroads, it was imperative that every few miles side-tracks be constructed to allow fast trains to pass the slower-moving trains. This side-track, constructed just west of the railroad's westward turn into the valley of Big Muddy Creek, eventually became the town of Almont. The name, of French origin, describes Alta meaning high and Mont meaning hill, and it is supposed a member of the construction crew or inspection party with French background was so impressed with the hills and valley in the area, the side-track was henceforth called Almont. Almont remained a railroad side-track until 1906, when a young man with visions for the future founded a town on the prairie. Eber W. Hyde from South Dakota traveled by train looking for a likely spot to establish a lumberyard to serve the people moving to the "New West." On July 4, 1906, a survey crew plotted nine blocks of the original town site and by July 15, a pasture had been changed into a town and five businesses were already in operation; a lumberyard and elevator, hotel, restaurant and general store.
The city of Sims was a boom town in the 1880s. It was first founded when the Northern Pacific Railroad needed a place to get coal and water. Along with a large coal mine that employed over two hundred workers, they also had a brick factory and cattle shipping point for what was then the western Dakota Territory. Many businesses were established at this time, including a large three-story hotel. At its peak, Sims had a population of around 1,500 people. When the brick yard met its failure and better coal was found in other areas, the town began its slow deterioration. There is a still-active Lutheran church at Sims, which is located some distance from the main town site. The first church was a parsonage built by Scandinavian immigrants in 1884 with services held upstairs. In 1900, a larger church was built to accommodate the growing congregation. The high steeple was a very unique decoration on top. The inside has its original oak alter and high pulpit.
Almont / Sims Talking Trail
Almont and Sims ND
Lat:46.7722 Lon:-101.498

Look for signs bearing the Old Red Old Ten logo along the Old Red Old Ten Scenic Byway to visit these Almont/Sims points of interest. 
Call 701-566-5566, and enter any of the following extensions to learn more about these Almont/Sims sites:
City of Almont - Ext. 301
Lover's Cliff - Ext. 302
Almont Heritage Park and Museum - Ext. 303
Sims - Ext. 304
Sims Church - Ext. 305
Almont Heritage Park and Museum
Main Street
Almont, ND
Lat:46.7267 Lon:-101.504

The Almont Heritage Park and Museum is a veritable treasure trove of historical buildings, pictures and artifacts. Creation of the Heritage Park was first begun in 1970 with the building of the Museum. Following this were the additions of various buildings, including a one-room school house, a blacksmith shop, a 1908-style jail, an original homestead shack and a Sears Roebuck House that was originally ordered from a Sears Roebuck catalog and assembled here. The newest addition to the Park facility is the Sig Peterson metal bridge, the oldest metal bridge in Morton County that is still in existence. History abounds within the confines of the park and beckons to all history buffs to come and enjoy a walk back in time. The reality of those days gone by can now only be enhanced by vivid imaginations. Was this a better place or a better time. Judge for yourself here at the Almont Heritage Park and Museum.
Art Depot
Assumption Abbey
418 3rd Ave. W.
Richardton, ND 58656
Phone: 701-974-3315
Lat:46.88 Lon:-102.32
www.assumptionabbey.com

Assumption Abbey, Richardton, is a Benedictine monastery. Its church also serves the local Catholic community as St. Mary's Church.
The Assumption Abbey/St. Mary's Church was begun in 1906 and was first used for Midnight Mass in 1908. It is Romanesque in style, built in the form of a cross. It has 23 beautiful stained glass windows. The 19 upper round windows each have a Christian symbol. It also has 24 painted medallions of the apostles and other saints. The expansive volume of its interior reminds us of the immensity of God's love.
701.974.3315
Assumption Abbey Gift Shop and Wine Cellar
418 3rd Ave. W
Richardton, ND 58652
Lat:46.8883 Lon:-102.32
www.assumptionabbey.com

The Gift Shop at Assumption Abbey traces its roots back to the old student bookstore in its various locations and reincarnations. It is managed by Br. Basil Kirsch, and carries many of the items that are made by monks of the Abbey. These include publications, pottery, woodcraft items (icons and crosses), rosaries, and other items as well as books, candles, and gift items from various suppliers.
The monks at Assumption Abbey became involved in the sale of table wines in the early 1960s as part of an effort to help fund education at the Abbey Schools.
While the Abbey seems to be famous throughout the region for making fine wines, it is a reputation that has gotten a little ahead of the facts in the matter. The truth is the monks have never made any wine, nor do wine grapes grow in this part of the world. In fact, North Dakota is the only state in the union that does not grow any fine table wine grapes.
In the 1950's the Abbey allowed Brookside Winery of Guasti, California, to sell wine under the "Assumption Abbey" label. The Abbey received a royalty for the use of its name. Labels were printed in Germany, and the quality of the wines produced under this arrangement was praised in many guides. In the mid-1980s the Brookside winery was sold to a food conglomerate which planted a housing subdivision where once grape vines had flourished.
At that time the monks of made an arrangement with the San Antonio Winery of Los Angeles. This winery uses grapes from the Sonoma County and Central Coast regions of California. Now, Assumption Abbey Press prints the wine labels in Richardton; they are sent down to California and they come back with wine bottles glued to them!
Much of the wine is bottled in gallons for sale as "altar wine." The Abbey sells its wines to churches in a four-state area. As a sideline, the monks sell table wines from their wine cellar in Richardton.
Burlington Park
Glen Ullin, ND

Burlington Park is right down town, located on South Avenue and is perfect for picnicing. It's a beautiful park known for its lovely flowers and landscaping. It is a great place to relax and enjoy many of the events held in Glen Ullin.
Country Drug Inc.
116 N. Ave. E
Richardton, ND 58652

701-974-3558
Lat:46.8839 Lon:-102.316

Shop a variety of fine collectibles at the Richardton Country Drug. Also features a pharmacy for all your prescription needs.
County Seat Controversy
In the spring of 1883, much to the consternation of the citizens of Gladstone, the city of Dickinson was selected as county seat and to be the terminal point of the Northern Pacific. The foremost reason for selecting Dickinson was that it had established itself as the main point on the Black Hills freight and stage lines.
The citizens of Dickinson, Gladstone, and Taylor all sent petitions to Dakota Territory Governor Nehemiah Ordway, requesting their respective city be designated the county seat. Governor Ordway side-stepped the issue by appointing three commissioners, two from Dickinson and one from Gladstone. A vote was taken, with the two Dickinson commissioners voting for their site and the Gladstone commissioner voting for his. The result: Gladstone lost the county seat by one vote.
Crossroads Golf Course Glen Ullin
4051 County Road 88
Glen Ullin, ND 58631
Lat:46.9365 Lon:-101.886

A nine hole grass green golf course located just north of the city of Glen Ullin.
Dacotah Clayworks
425 South Elk and South Avenue
Hebron ND 58638
Lat:46.8954 Lon:-102.048
www.ndclay.net

Studio potter, Robin Reynolds, who has worked in clay for over 35 years, operates Dacotah Clayworks. She moved back to her home state of North Daktoa from Bellingham, WA, in 1996 to work entirely with native North Dakota clay. Studio tours are available to show you how she manufactures local Hebron clay into a material suitable for pottery making. The sales gallery is located in the old Texaco bay garage office. Just ring the doorbell and let yourself into the shop during business hours, Monday - Saturday, 9 am to 6 pm, and Sunday from 12 noon to 6 pm, or call 701-878-4060.
Hebron clay is attractive, butter-colored clay, which Robin makes into folk-art stye pottery. She finishes the ware with rustic glazes and stains made from other North Dakota clays. Often asked why she labors at making indigenous clay, her answer is "everything I needed was underfoot, not at the clay store!"
Reynolds is an adjunct Instructor of Art at Dickinson State University. She offers workshps, Raku firings, and tour group demonstrations at Dacotah Clayworks and is an Artist-in-Residence with the North Dakota Council for the Arts.
Thank you for stopping by this rural pottery on the Old Red/Old Ten Scenic Byway!
Dacotah Speedway
2500 Longspur Trl
Mandan, ND

Lat:46.8149 Lon:-100.856
www.dacotahspeedway.net

IMCA Modifieds, WISSOTA streets, Hobby Stocks, Legends, Thunder 4's.
Fridays at 7:30 p.m. May through September
Phone: 701-663-6843
Dakota Dinosaur Museum
Travel back, way back, to a visit to the Dakota Dinosaur Museum. This 13,400 square foot museum houses thousands of rock, mineral and fossil specimens, including a complete real Triceratops skeleton. The museum features an outstanding collection of minerals from around the world. In the museum model laboratory, visitors can view a complete Triceratops skull discovered just west of Dickinson. Eleven full scale dinosaurs, along with a florescent display of unique minerals, will be the highlight of any child's vacation.
Dickinson Historic Downtown Walking Tour
Dickinson History
Dickinson began as Pleasant Valley Siding. One of Pleasant Valley's first visitors in the fall of 1881 was Wells S. Dickinson, who was in charge of land grants for Northern Pacific Railroad. Dickinson became an established city in 1883.
Buffalo hunters shipped out bales of hides and boxes of bones in those early days before the great beast disappeared from the land. These hunters bought their provisions from the early merchants, sending out their wagon teams in all directions to gather hides.
The Dickinson area experienced agricultural growth along with business growth throughout the 1880s. Dickinson gradually became the main trade center within a 150 mile radius in the territory. The large cattle outfits dotting the countryside took on their supplies at Dickinson and shipped their stock out of Dickinson.
Energy resources such as oil and coal have long been economic bases for Dickinson. Fast forward to the present. Oil development, because of new technology practices has accelerated to mammoth proportions, impacting the city and the surrounding areas with unprecedented growth. Dickinson is poised to become the epicenter of energy business in North Dakota and the region.
Branding the visitor experience, "Explore the Western Edge", Dickinson is the gateway to the Theodore Roosevelt National Park.
Dickinson Museum Center
Dickinson Recreation Center
Dickinson State University Art Gallery
Dickinson Talking Trail
Dickinson Unique Retail
First Presbyterian Church/Salem United Church of Christ
115 North 2nd Street
New Salem, ND 58563
Lat:46.8428 Lon:-101.408

First Presbyterian Church/Untied Church of Christ
New Salem was founded by the German Evangelical Church in 1883 which held services in German. In 1901 the need for an English speaking church was organized and in 1905 the First Presbyterian Church completed the construction and dedication of their wood-framed church. Unique is the construction of the foundation which is of sandstone, extracted from various sandstone formations in the area, hauled many miles by horse and wagon, and laid stone upon stone in the hand dug basement as the foundation. Sandstone is very fragile but the church still stands level over one hundred years later. In later years, stained glass windows were added and cast a warm glow on the curved pews (no center aisle to divide the men from the women as in early German church). After 99 years serving the Presbyterians, Salem United Church of Christ (members who are descendants of the original German Evangelical Church) purchased the building which has been in continuous use as a place of worship. Many improvements have been made since then including an addition making the sanctuary, fellowship hall and restroom handicap accessible.
First Roller Mill
Robert Lee built the first Roller Mill west of the Missouri River in 1885 in Gladstone. The main building was constructed right on the cliff overlooking the Heart River, just west of the present City Hall on Cliff Street. An elevator was later constructed adjacent to the wing. The facility operated as a full-fledged mill until it was destroyed by fire on the night of January 12, 1910. The fire destroyed just the mill on the cliff bank and did not damage the elevator or the flour warehouse across the road. Although the Lees made a decision not to rebuild, the facility ended up being rebuilt in the 1910s and was operated by the Gladstone Milling Company, until it was sold to the Farmers Cooperative in 1930. The mill burned down a second time on March 31, 1936, and at that time the elevator was also destroyed.
Fort Lincoln State Park
7 miles south of Mandan on Hwy 1806

4480 Ft. Lincoln Road
Mandan, ND 58554

Lat:46.7487 Lon:-100.858
www.fortlincoln.com

Today, visitors can relive what Fort Abraham Lincoln was like for General Custer and his command in 1875. We invite you to take a step "back to 1875" as uniformed soldiers and laundresses conduct living history guided tours through the reconstructed Custer House and Central Barracks. Come out to Fort Abraham Lincoln and relive the legacy!
Fort Lincoln Trolley
3rd St SE
Mandan ND 58554
Lat:46.8214 Lon:-100.865
www.realnd.com/fortlincolntrolleyindex.htm

This restored trolley car that once ran in Bismarck now offers a unique trip to Fort Abraham Lincoln State Park. The trolley departs from Mandan's 3rd Street Station daily on the hour 1 - 4 p.m. and returns from Fort Lincoln on the half hour 1:30 - 4:30 p.m. The season opens beginning of June and runs through Labor Day. Admission is $7 for everyone. Children under 5 accompanied by their family are free. Group discounts may apply. For additional information call (701) 663-9018.
Fort Sauerkraut
Self directed point of interest on the northwest side of Hebron, on the hill above St. John's Cemetery.
Lat:46.904 Lon:-102.055

This old fort was built to save people from a predicted indian attack. A self guiding history and tour is available on site.
An Indian scare alarmed the residents of Morton County in 1890. At Hebron the women and children were evacuated to Bismarck, and the men constructed a stockade in the northeast quarter of section 32-140-90, Custer Township just northwest of the city, which was named for the German ethnic food which had been stockpiled here due to its unlikelihood of spoiling. The scare proved to be false, and after a few days things had returned to normal. Its walls survived for many years, but the farming efforts of subsequent landowners eventually destroyed most physical evidence of the fort.
Gaebe Pond
Located off of Hwy 10 and 1 mile West of New Salem.

Lat:46.8453 Lon:-101.446

Two miles west of New Salem on the Old Red Old Ten Scenic Byway is Gaebe Pond which, thanks to the tireless efforts of the Central Sportsmen's Club supports several varieties of fish and a fishing pier which is handicapped accessible and open to fishing for senior and young children alike. The Gaebe Pond is the fourth series of dams. It was built by the Civilian Conservation Corps in the mid 1930's during the Great Depression. On the dam's face, there are rocks placed into the earth that spell CCC for the Corps. For many years this was known as Bumann Dam. The first of the dams were built before the turn of the century. The second and third were completed in the early 1900's, They were constructed by the Peter Bumann family using horse and scrapers. The dams are filled almost entirely by strong springs above and around the first three dams. The pond first provided New Salem with ice, which was taken directly from the pond before electricity. The Bumann family cut and hauled ice from these dams to the ice house on their farm, then called Spring Brook Farm, to the east of the dams. The ice blocks were very uniform in size at about eighteen inch cubes, so they were easy to pack. They were placed on layers of straw and hauled on sled by horses fitted with ice cleated horseshoes. It was hard, cold work and yet a profitable business venture. People would come all summer to purchase ice for their ice boxes. The tools used to cut and remove the huge ice cubes can be seen at the local museum. It was sawed into blocks and stored with straw in an underground cellar. The Bumann farm was purchases in the late 90's by Dirk Gaebe and he agreed to let the local Central Morton Sportsmen's League develop it into a recreation area. The local chapter, in partnership with the North Dakota Game and Fish Department, put in the dock and stock the water annually with trout, blue gills and catfish. They also upgrade the banks and grounds regularly. This fishing opportunity is available to the handicapped, young people and senor citizens. The grounds are mowed and kept clean by the local chapter.
Gateway to Lake Tschida
15 miles south of Glen Ullin on Highway 49
Glen Ullin, ND
Lat:46.6071 Lon:-101.884
www.laketschida.com/index.html

Glen Ullin is the gateway to Lake Tschida and all the fun to be had is found there. Recreational activities include fishing, boating and swimming. Lake Tschida is located 15 miles south of Glen Ullin on Highway 49. The lake backs up over twenty miles from the Heart Butte Dam. Lake Tschida was created when the Heart Butte Dam was finished in 1949. The Heart Butte Dam was the first flood control and irrigation project in North Dakota. Glen Ullin's Memorial Park is minutes from city limits, if you are looking for a camping spot closer to town. Memorial Park is west of Glen Ullin on the Old Red Trail. It has eighteen electrical and numerous non-electric camping sites scattered around the Park. The Park contains several picnic areas, playground equipment and a sand volleyball pit. It has running water and a dumping station. The most unique feature of the Park is the Log Cabin. This facility hosts a complete kitchen, large meeting or banquet room and covered patios. It's the perfect spot for reunions, picnics and meetings. Be sure to take a walk to the restored caboose located on the Park's east side. Memorial Park is managed by the Glen Ullin Park District. Need help filling your picnic basket or cooler, gas for your cat or boat, or your fishing license? Glen Ullin has the local businesses you need for help.
Geocaching
Have you ever been geocaching before? Geocaching is an outdoor treasure hunting game using GPS to find the hidden treasure. Participants navigate to a specific set of GPS coordinates and then attempt to find the geocache (container) hidden at that location. Each treasure has something inside, whether it be just a log of names or a piece of treasure. If it has treasure, you can take it but you must replace it with something else.
Gladstone History
The city of Gladstone was founded in the spring of 1882. First called Green River, later changed to Gladstone, the name was chosen in honor of the residents that lived in an immigrant house built by the Northern Pacific Railroad. Since the first residents bore English names, Gladstone, the name was chosen for the new settlement.
Gladstone was first in several progressive areas. In 1884, "The Rustler" became the first newspaper in Stark County. The first roller mill of the Missouri River was built near Gladstone in 1885, and the community of Gladstone has the first post office west of the Missouri River.
The famous H.T. Horse Company built a large feed barn on the southeast corner of the city of Gladstone. "A.C." Huidekoper started what would become the biggest horse ranch in North Dakota. A.C. founded the famous HT ranch in Slope County, specializing in Percherons. At one time, he had 12,000 horses running on hundreds of miles of open range.
Gladstone was an active and prosperous town, at one time there was two banks. As was common in many of the new communities on the prairie, fire destroyed much of the businesses during the 1930's.
Gladstone Talking Trail
Glen Ullin Churches
Glen Ullin
Lat:46.81 Lon:-101.83

Bethel Assembly of God 203 F Street South 701-348-3885
Evangelical Congregational Church 211 East Ash Ave. 701-348-3111
First Congregational UCC 311 West Ash Ave. 701-348-3919
Sacred Heart Catholic Church 204 East Ash Ave. 701-348-3527
Zion Lutheran Church 111 South Second Street 701-348-3172
Glen Ullin Drug
113 S Main St
Glen Ullin, ND 58631

Lat:46.8155 Lon:-101.83

Full service pharmacy and gift shop.
Glen Ullin History
Lat:46.815 Lon:-101.83
www.glen-ullin.com

In May or June of 1879 the Northern Pacific had laid the tracks through the area that is now Glen Ullin. Four years later two land agents - Major Alvin E. Bovay of Ripon, WI, and Isaac Richardson of Cleveland, OH, organized a group to settle in western North Dakota. They decided on the spot that is now Glen Ullin. Major Bovay chose the name Glen Ullin from one of his favorite pieces of literature, "Lord Ullin's Daughter." The word Glen is a Gaelic word meaning valley, decided upon because of the location in Curlew Vally, a beautiful glen.
Major Alvin Bovay surveyed the Glen Ullin area in 1881 and on August 6, 1883, the townsite was platted. On March 9, 1901, Glen Ullin was incorportated as a village. The presidents of the Village Board were chosen each year with some of them being re-elected for a second year. The population of Glen Ullin in 1910 was 921, and it was the time, Glen Ullin was no longer called a village but a city. On March 25, 1910, the city election was held with a mayor and council chosen to represent the people. This same form of city government has been maintained to this date. There are three wards in the city with two councilmen representing each ward. Three of the councilmen are elected every two years. Formerly, the mayor and council were elected for two-year terms but since 1934 they serve four years at each term of office. Michael Tschida, Sr. was elected to be the first mayor.
Glen Ullin Museum
207 S. 10th St.
Glen Ullin, ND
Lat:46.815 Lon:-101.83

The Glen Ullin Museum was established in 1984 and consists of 4 buildings: a 7-gable house built in 1884, Bethany church built in 1896, a rural schoolhouse built in 1920 and an exhibit building.

The church and school are maintained as such. The house displays household items as well as over 700 dolls. The exhibit building contain artifacts large and small such as: printing press from the Glen Ullin Times office, post office window and boxes from old Glen Ullin post offices, barbershop chairs and counters from 1920's Glen Ullin barbershop, kitchen, dining room, and parlor displays, WWI army trucks, Sno Bird mail truck, Hart Par tractor, functioning header, horse driven well drilling machine converted to motor from local Glen Ullin well driller, many other unique and interesting items from the early 20th century.
Open third weekend of September, otherwise by appointment 701-348-3375 or 701-348-3289.
Admission is free, donations are accepted.
Glen Ullin Talking Trail
Glen Ullin ND
Lat:46.816 Lon:-101.83

Look for signs bearing the Old Red Old Ten logo to visit these Glen Ullin points of interest along the Old Red Old Ten Scenic Byway Trail. Call 701-566-5566, and enter any of the following extensions to learn more about these Glen Ullin sites: City of Glen Ullin - Ext. 401 Crossroads Golf Course – Ext. 402 Gateway to Lake Tschida – Ext. 403 Twin Buttes and the Trails – Ext. 404
Grines House
Almont, ND
Lat:46.7253 Lon:-101.503

Open on special occasions and events. Grine's House has unique crafts and supplies. You'll enjoy the country atmosphere and hospitality while visiting.
Phone: 701-843-8277
Heart River Golf Course
Hebron Brick Company
1000 Washington Ave E
Hebron, ND 58638

Lat:46.903 Lon:-102.039
www.hebronbrick.com

Hebron Brick is a brick manufacturing company located in Hebron, North Dakota. It is also the only brick company in North Dakota. Charles Weigel and Ferdinand Leutz established Hebron Fire & Pressed Brick Company in 1904. Demand for building supplies was flourishing, and by 1905 Hebron Brick hit full production, competing with 18 similar brick businesses.
Hebron Brick maintains a large and modern operation. The company makes bricks in 38 colors.
(701) 878-4428
Hebron Cenex Store
917 Main St.
Hebron, ND
Lat:46.9013 Lon:-102.041

Fuel, Food, and small hardware, grocery, and repair services.
Hebron City Hall
620 Washington Ave.
Hebron, ND 58638
Lat:46.9021 Lon:102.047
www.hebronnd.org

Hebron History
Lat:46.9006 Lon:-102.045
www.hebronnd.org

We are located in the center of Southwestern North Dakota. North Dakota is in an economic boom. The Nation's Number One producer of Flax, Canola, Dry Peas, Certain Wheat, All Dry Beans, Sunflowers, Barley, and Honey. And, in a few years; Light Sweet Crude Oil. Hebron is in the middle of all that.
Hebron's history goes back more than 125 years. We have a modern brick factory that has been producing top quality brick since 1904. Most of the Hard Working farmer and rancher Families have been here for more then 100 years. Yet, we have an easy going atmosphere. It's not uncommon for two vehicles to stop in the middle of the street to talk a spell. And, everyone waves to one another. Everyone.
We have a hard working Post Office, a movie theater with a modern projection system, two restaurants, a Credit Union, a Bank, two gas stations, three auto repair places, and a RS Jack and Jill Market that will deliver groceries to you every Friday during Winter.
We have a swimming pool, an outstanding Library, a K-12 School with a winning reputation, a campground/motel, City Parks with lighted areas, a nice Museum, and a very good Weekly News (The Hebron Herald).
All this in a rural setting just two miles off I-94, exit 97. Hebron is surrounded by Parks (some National), populated by mostly older homes, connected by fiber optic cable and DSL. It's just 30 minutes to Walmart and electricity costs six to seven cents a kilowatt. Come See and find out.
Hebron Talking Trail
Hebron ND
Lat:46.9006 Lon:-102.045

Look for signs bearing the Old Red Old Ten logo to visit these Hebron points of interest along the Old Red Old Ten Scenic Byway Trail. Call 701-566-5566, and enter any of the following extensions to learn more about these Hebron sites: City of Hebron - Ext. 501 Fort Sauerkraut – Ext. 502 St. John Church – Ext. 503 Hebron Brick Company – Ext. 504 Dacotah Clayworks – Ext. 505
Heritage Home Tour
Mandan, ND
Lat:46.8262 Lon:-100.891
www.mandanhistory.org/heritagehomes.html

The Mandan Historical Society is currently gathering historical information on approximately 40 residences of significant historical persons associated with the railroad in Mandan or commercial rail-associated buildings. Other transportation venues (i.e. steamboat and stage lines) will be considered if they add to the theme or enhance the overall transportation focus.

With the ND Railroad Museum in north Mandan, and the Fort Lincoln State Park to the south, the Home Heritage Walking Tour seeks to provide a central city destination for visitors drawn to one or both of the existing facilities. In addition to a new tourism destination, the project will publicly recognize a wide variety of individual property owners who have invested time and money to preserve a portion of our City's heritage.
The first phase of home markers were installed in Spring 2008. A self-guided route map brochure can be downloaded by clicking on the adjacent link. Hardcopies of the map are available at local hotels and other tourist promotion sites located throughout the city.
Jeff Heid Memorial Tennis and Basketball Courts
North 3rd Street in New Salem, right off of Old Red Trail.
Lat:46.8471 Lon:-101.411

This project was a joint effort of the New Salem Schools, Park Board, the community business places, family and friends who contributed the necessary funds to match an available Federal Program in 1976. Approximately 115 feet square, located on the northeast corner of the elementary school playground, the multi-sports complex consists of interchangeable courts for tennis, basketball, badminton and volleyball. It is fenced, lighted and has permanently anchored posts for tennis nets and basketball hoops.
The project was begun in the summer of 1976 and dedicated that fall in memory of Jeffery A. Heid, who died of lymphatic cancer in April, 1975, a month before graduating from New Salem High School.
Laura Lea Antiques
103 South Avenue W.
Glen Ullin, ND 58631
Lat:46.816 Lon:101.83

Laura Lea's Antiques brings decorating to an antique level with a variety of of vintage furniture, kitchen utensils, pictures and china. The new decorating look is using old farm tools. Stop in and browse for the many different items that will finish your project.
Hours:
Thursday - Saturday 10 am - 6 pm CT
Sunday & Monday - 12 pm - 5 pm CT
Accepting Consignments
Contact: 701-348-9090
Lovers Cliff
Located just across the Muddy Creek, south of Almont.
Lat:46.7253 Lon:-101.503

Located just across the Muddy Creek south of Almont is a picturesque, yet ruggedly unique rock formation that is famously known as Lover's Cliff. It has been a favorite image for artists' canvases for centuries and a memorable place for lovers to go and carve their initials into the sandstone that has withstood the forces of nature and time for millenniums. Carved dates and initials to commemorate special occasions in people's lives have been a surprise finding here for tourists for many years, and will help to set your imaginations awhirl. The views from both the top and bottom of Lover's Cliff are spectacular! Come and enjoy an experience you won't soon forget at Lover's Cliff.
Mandan Attractions
Explore the Attractions in Mandan, ND
View here for Mandan Attractions
Mandan Depot / Five Nations Art Gallery
401 West Main
Mandan, ND 58554
Lat:46.8258 Lon:-100.894
www.fortlincoln.org

This historic Burlington Northern Railroad Depot on Main Street in Mandan features Native American arts and crafts. Works of more than 200 North Dakota American Indian artists are available for purchase. The Depot is also available for art and American Indian interpretive programs.
The Depot is open daily.
Monday-Satuday 9am - 6pm
Sundays noon - 5pm
Extended summer and Christmas hours.
For more information call (701) 663-4663. Admission is free.
Mandan Events
Mandan, ND
Lat:46.8289 Lon:-100.891
www.cityofmandan.com

There are lots of things to do year round in Mandan, ND!
Mandan History
411 West Main Street
Mandan ND 58554
Lat:46.8289 Lon:-100.891
www.mandanhistory.org/areahistory.html

EARLY DAYS

The earliest settlers were primarily big game hunters, leaving archeological evidence of stone and simple weapons. Between 1100 and 1300 AD, Native American people settled the area. The Mandan tribe moved up the Missouri River to the Heart River where they established their villages. The first white men to the area were European explorers. The French Canadians came in 1738 "up" the Red River from what is now the Pembina area searching for a water route to the Pacific Ocean. While unsuccessful in finding a Northwest Passage, they noted the abundance of fur-bearing animals. They developed friendships with and lived among the peaceful, agricultural Mandan Indians who had settlements throughout the area including the On-A-Slant Villages south of present-day Mandan.

Representatives from the Northwest Company established a fur trading expedition post at the junction of the Heart and Missouri Rivers in 1780.
| | |
| --- | --- |
| | From 1763 to 1800, the claim to the Louisiana Territory passed from France to Spain and back again to France. In 1803, France sold the territory, including the Mandan area, to the United States in what we know today as the Louisiana Purchase. |
Lewis and Clark and their Corps of Discovery followed the Missouri River to explore the territory. The expedition wintered at Fort Mandan (1804-5) in the Mandan Native American villages located 35 miles to the north. After reaching the Pacific Coast, they returned via the Missouri River in 1806. The designation of the State highway along the western bank of the river (ND Hwy 1806) recognizes the event.

Fort Clark was founded as an American Fur Company trading post in 1831. Located on the west bank of the Missouri River and north of present-day Mandan, the post was named to honor General William Clark (of the Lewis and Clark Expedition). But by the 1840s, the fur-bearing animal population was being exhausted which reduced the major source of food and income for many tribes. Many native people resented the incursions onto their homelands and the prior peaceful relationships began to falter. Meanwhile, white settlers continued to slowly immigrate to the area hindered in part by the challenging climate, the remote location and increasing Indian uprisings.

In 1864 Congress provided a major boost to settling the West by establishing the Northern Pacific Railroad and associated land grants to help finance the venture. Some stability was brought by a treaty in 1868, in which the U.S. pledged to keep settlers out of specified areas. In return some of the Sioux, but not all, agreed to remain on reservations west of the Missouri River. However railroad expansion and the discovery of gold would re-ignite open warfare.

MILITARY FORTS

The first permenant military presence in the region was Fort Rice established in July 1864 approximately 25 miles south of present day Mandan. Among its many successes was the rescue of the Fisk Expedition enroute to the gold fields in Montana from "hostiles" near Marmarth ND. The fort hosted a major peace council in 1868. This gathering led to the Laramie Treaty which defined Sioux lands as those west of the Missouri River in Dakota Territory.

To provide protection for the approaching rail line from the east and the homesteaders who would surely follow, the US army established two outposts in 1872 and 1873. Fort Greeley (later renamed Fort Hancock) was founded first on the east side of the river. On the west side, an infanty post named Fort McKeen was constructed on bluffs above the former fur-trading post. Later in 1873 Congress authorized the addition of a cavalry post and changed its designation to Fort Abraham Lincoln when foot soldiers were deemed ineffective against their mounted adversaries. A permanent civilian settlement known as "Lincoln" was adjacent to the north side of the fort. After the establishment of Fort Abraham Lincon and later Fort Yates, Fort Rice was abandoned and dismantled in 1878.

MORTON BEGINS

Morton County was created by the 1872-1873 territorial legislature. It is named for Oliver Hazard Perry Throck Morton, Governor of Indiana during the civil war and a US Senator at the time the county was established.

Once the Northern Pacific Railroad announced the location for its western approach to its Missouri River bridge crossing, a new settlement appeared there in December 1878 approximately 5 miles north of Fort Abraham Lincoln. The city was also to serve as base camp for the westward survey of the rail line.

The first attempt at industrial development started with the establishment of a lignite mine at Sims also in 1873. However its operation eventually failed.
Supplies were brought across the river in the winter months with temporary track laid on the ice during the winter and via barge during warmer months. An article on the practice was included in the national magazine "Harper's Weekly." The rail bridge would not be complete until later in 1882.
POSTAL APPOINTMENTS AND THE NAME GAME
Postal service had initially been provided to what is today Morton County at Fort Rice from 1866 to 1870. A post office was operated at Fort Abraham Lincoln from 1873 through 1894.

Until civil service reforms in the 20th century, thousands of political supporters were rewarded with appointments as postmasters and given broad power. Four different postmasters coincided with four separate designations for area's post office. The city's first post office in 1878 was known as "Morton." The name "Mandan" stuck for only eight (8) days in March 1879 before becoming "Cushman." Ultimately in September 1879, the post office returned to its current designation of "Mandan."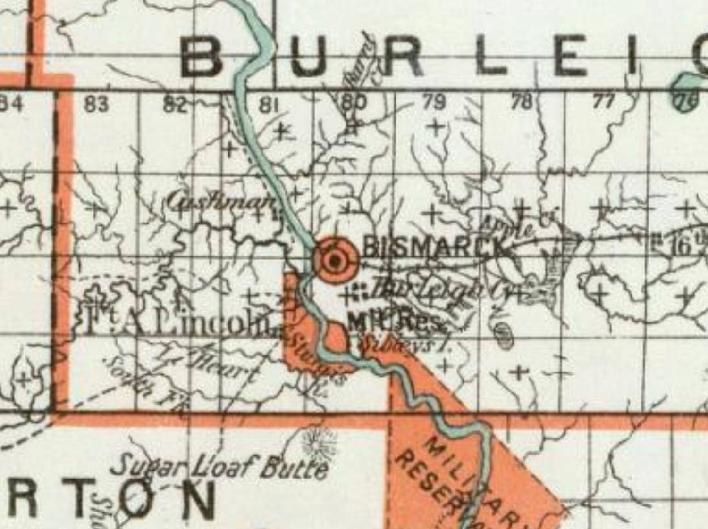 Enlargement from 1879 Dept of Interior Map
The Morton County government was formally organized March 23, 1878. However the 1879 legislature later attached the eastern portion of Morton County to Burleigh County. This reassignment of authority effectively nullified the organization of the Morton County government. The Dakota Territory's 1881 legislature returned the detached portion to Morton County and the government was reorganized on February 18 of that year.

The City of Mandan was incorporated one week later on February 25, 1881 and was named for the Mantani Indians, or "people of the bank." It became the county seat for the replatted Morton County. The City of Lincoln had been county seat from 1878 through 1879.

Upon completion of the railroad to Montana in 1881, Fort Abraham Lincoln had fulfilled its primary purpose and gradually declined until abandoned in 1894. The City of Lincoln eventually dwindled into obscurity.

THE GOLD RUSH YEARS

While the railroad was critical to area development, other modes of transportation also impacted early growth, spurred by gold discoveries. In 1873, four steamboats were traversing the Missouri River working to supply the gold fields in Montana and included the "Montana," the "Dakota" plus two smaller versions known as the "Rosebud" and "Bighorn." The riverfront dock, originally known as "Bellows Landing" and later renamed "Rock Haven" was located north of the city, and is near the present day MDU Heskett power generating station north of the refinery.

Colonel George Custer led a survey expedition from Fort Lincoln in 1874 to the Black Hills to confirm the existance of gold there. Whites were settling west of the Missouri in 1875, contrary to the Laramie Treaty. This development led to multiple Indian uprisings.
| | |
| --- | --- |
| Courtesy of the Institute of Regional Studies, NDSU, Fargo | Once the gold story got out, treasure-seekers would travel to Bismarck by train and then take the Bismarck to Deadwood Stage to seek their fortunes. Operated by the Northwest Express and Transportation Company, the stage operated from 1877 to 1880, stopped while enroute with both supplies and passengers. One-way fare was $23.00 and entailed 21 stations; with two being overnight stops. |
To attract settlers and investment dollars, frontier communities would advertise in commercial publications and East Coast periodicals to entice people and businesses to locate in the area. One promotion sponsored by Morton County compared Mandan to Omaha, Nebraska due to its proximity to the rail line and the Missouri River. Transportation routes are vital to both agricultural and industrial operators.
GOVERNMENT CONSTRUCTION

In 1903, the State Reform School opened at Mandan to provide correctional and rehabilitation services to it's youth. Today, it is known as the ND Youth Correctional Center.
The Bismarck Indian School, one of approximately thirty non-reservation boarding schools located in the nation, was opened in 1907 despite the protests of Mandan residents who wanted the school to be located in their city. The school operated until 1937.
Mandan Municipal Golf Course
1002 7th Street SW
Mandan, ND 58554
Lat:46.817 Lon:-100.901
www.mandanparks.com/Contents/muni.aspx

The Mandan Municipal Golf Course is located at 1002 7 St SW. This long established 9-hole course features excellent grass greens, along with a less challenging layout. There are fewer sand bunkers and hazards on this player friendly course. It has become a favorite of beginners, juniors, and seniors who prefer a less formidable challenge.

Operational Season - Early to mid-April through November, weather permitting.

Tee Time Reservations - Reservations for tee times can be made up to three days in advance by calling the course.
Daily Hours - Open daily from sunrise to sunset. Weather conditions will effect hours the courses are available. Contact the course for more information.

Phone - 701-667-3272


Mandan Talking Trail
Mandan ND
Lat:46.8271 Lon:-100.885

Look for signs bearing the Old Red Old Ten logo to visit these Mandan points of interest along the Old Red Old Ten Scenic Byway Trail. Call 701-566-5566, and enter any of the following extensions to learn more about these Mandan sites: City of Mandan – Ext. 101 Mandan Depot and Beanery – Ext. 102 Rough Rider Statue – Ext. 103 St. Joseph Church – Ext. 104 Trail of Tears Statue – Ext. 105
Mayer Theater
531 Main Ave.
Hebron, ND 58638
Lat:46.9007 Lon:-102.047
www.mayertheatre.com

The reopening of the Mayer as a community volunteer operated theatre will bring the total small town theatres run this way to 20. The Brekke family has purchased the Mayer Theatre for the community to run. They restored the neon marquee, and the Grand 15 Theatres staff from Bismarck spent many weeks cleaning the theatre, and installing a new projector and sound equipment. All that is asked in return is that volunteers come forward to run this little jewel of a theatre. If you are interested in helping, please stop by the theatre and sign up. And don't forget to patronize this wonderful vintage 1949 Main Street movie house.
Muddy River Coffee House
200 Main Ave NW
New Salem, ND 58563
701-843-7200


Lat:46.8426 Lon:-101.408
www.muddyrivercoffee.com

Located in a historic home opn Main Street New Salem. Open Tuesday - Friday, 9 am - 6 pm, lunch menus, coffee and rolls. Enjoy Saturday's coffee and carmel rolls, 8 am - 12 pm with tables inside to enjoy a nice relaxing lunch. Picnic areas located in the courtyard, or take your food to go. Lunch menu consists of sandwiches, homeade soup and gourmet salads.
Dont leave without grabbing a freshly baked scone that will make your mouth water.
Shop the large variety of items featured in this locally owned shop; jewlery purses, a great variety of household items and all the New Salem Holstein items you could ask for.
Coffee house hours are 8:00am - 6pm T-F and Saturday 8am-noon.
WiFi available
New Salem City Park
401 Main Street
Lat:46.8422 Lon:-101.412

The original City Park was on the spot where the City Auditorium is now located. The City Park was split in two by the post office at that time. In 1926 the Ctiy Auditorium was built and the Ctiy Park was built in the current location. The bandstand located in the Ctiy Park was built in 1939 amd was a local National Youth Administration project with an estimated cost of $767.00. The structure was to be made with native stone. The bandstand was dedicated on July 22, 1939 with the help of a 50 piece band made up of Judson and New Salem players performing a concert.
New Salem Historical Society and Museum
North 8th Street New Salem

1/4 miles north of the Old Red Trail
or
I-94, Exit 127, 1 mile south

Lat:46.845 Lon:-101.411
www.newsalem-nd.com

The New Salem Historical Society was organized in 1969 with the purpose of establishing a local museum to create interest in past history and preserve it for the future generations.
A site was acquired from the Park Board near the North Park. This became the Custer Trail Museum as three buildings were acquired and moved in over the next 2 years. The schoolhouse from Fairview School District is used as an office and display area. The second schoolhouse from the Garfield District was donated by Mr. and Mrs. Erich Wilkens and has been set up as a country school. The third building moved in was the Otter Creek Church, which was placed on a full basement. In 1973 a dedication service was held in the church.
In 1974 a blacksmith shop used before the turn of the century and originally owned by Philip Blank was donated to the Society by Wm. C. Keuther.
In 1976 the 40x100 foot brick and tile building was built as part of the Bicentennial project. It is divided into several rooms and used to display artifacts.
The replica Sandstone House was built by members of the New Salem Pioneer Club.
An annual buffalo and ham supper was held for many years as a fundraiser.
In 1972 Clarence Klusmann and Alice Conitz were elected to the seats vacated by Marvin Schulz and Joe Kautzman. Louise Holle filled the unexpired term of Amelia Fuchs.
From 1973 to 1981 others who served terms on the board were: Mel Clendenen, Frank Sturn, Philip Maier, Viola Reif, Marguerite Brandenburg, Lawrence Kroeger, Condon Hartman, Valmer Sucher, Colleen Heid, Mabel Hintz and Sharon McNeill.
In June 1981 Walter Kitzmann, dedicated promoter of the Museum and Historical Society, died. He had been President of the Society for 10 years. Edwin Holle was elected to fill Walter's unexpired term, and Lawrence Kroeger was appointed President.
As part of New Salem's 100th birthday in 1983, a new steel building 100x100 feet was erected to house vehicles and machinery displays.
The Historical Society was able to acquire the New Salem Depot in 1984 and that was moved to the museum site.
In 1989 the house owned by New Salem pioneer John Christensen, was offered to the Society by the families of Ruth Beusen and Edna Horn. The large 2 ½ story house was built in 1910 and would be of great historical interest once restored. The moving of the house was quite an undertaking, both logistically and financially. This was accomplished in October of 1989 by the Carrington House Moving Company.
Further work on the house would have to wait several years until finances would allow. We then proceeded with restoration of one or two rooms a year until 1999 when a grand opening was held in conjunction with a Woman's Life Society fundraising pie and ice cream social.
The year 2000 saw attention turn to the depot, where the dark dingy freight room was turned into a bright and cheery meeting room and home for the old books of the city library as well as an area for doing research.
Over the years since 1999 the Woman's Life Society has held an annual pie and ice cream social and we have featured art shows, gun shows, the Centennial Singers, various demonstrations and an antiques appraisal show.
In 2001 and spring 2002 the blacksmith shop was restored and set up for use in blacksmithing demonstrations. In 2005 the wooden windmill was restored by Hoesel Construction.


New Salem History
The Saga of New Salem
On an April day in 1883, a westbound freight train pulled into Jamestown, Dakota Territory and stopped to take on coal and water and to change crews. It so happened that an immigrant car in charge of a young man of 19 summers stopped near a farm implement sales yard. The salesman noticed the young man in the boxcar and stepped over to visit.
"How far west are you going?" he asked.
"They tell me it's about thirty miles west of the Missouri River", replied the immigrant.
"Plan to farm out there?" pursued the salesman.
"That's the idea", answered the youth.
"In that case you'll need machinery", said the man, smelling a chance to make a sale.
"Oh, I can probably get a plow at Mandan. That's what I need most", replied the immigrant.
"I'm telling you", persisted the salesman, "this is the last chance you'll have to pick up a plow. There's not much farming being done west of here."
That information was a bit surprising to the immigrant and he pondered it for several moments. The salesman perceived a weakening sales resistance and put on more pressure.
"I have some very good breaking plows right here in the yard."
The result of this conversation was that when the train resumed its way westward, a shiny new breaking plow had been added to the equipment in the immigrant car.
Eventually the freight rumbled across the Missouri River Bridge and stopped at Mandan. The young man was met at the depot by his partner, Mr. J.J. Lueck and taken to the Inter-Ocean Hotel for the best meal he had eaten since leaving St. Paul.
The next morning the train pulled out of Mandan. The country was now much rougher. The train seemed to climb higher each mile as it followed a river valley westward. There were now no towns and the hills were rugged and forbidding. The young man gazed with some apprehension from the door of his car at the procession of hills of various shapes and sizes.
At the first halfway level spot west of Mandan, the train stopped. The crew made their way to the car and began unloading the contents from both sides. Presently all the equipment was dumped along the right-of-way. The engine gave two short blasts of the whistle and the train proceeded on its way toward the western horizon. John Christiansen found himself alone on the plains of Dakota. The surrounding country was dominated by a high butte with a patch of buck brush near its summit. For the first time in his life he was in a region without roads, fences or human inhabitants. The only signs of civilization were the possessions in his custody and the railroad. Many miles to the east was Mandan and to the west was the town of Sims, but neither settlement had any influence on the spot where John Christiansen found himself. One wonders if he realized he was the first settler of the community to be known as New Salem.
A short distance to the south stood a butte that drew his attention. It was within easy walking distance and he could keep his camp and the railroad in sight nearly all the way. He made his way over the rich grassy swells and climbed the butte. Here he found his first neighbors. A good-sized prairie dog town extended for about a half mile down the side of the hill. He sat for a long time watching these interesting little animals. He returned to his camp as evening approached, prepared a meal and packed some blankets under an overturned wagon box where he planned to spend the night.
During the hours of darkness the wind rose and moaned around the wagon box. The howling of neighboring coyotes caused more apprehension. Sometime during the night a train struggled up the long grade from the east and rumbled past the lonely camp. John slept but little that first night in what was to be his home community for over 70 years. The train proceeded west a few miles to a point on the road known as Bluegrass siding where it left the cars carrying the original settlers that formed the colony. Thus John Christiansen preceded his fellow pioneers to the "promised land" by about 12 hours.
What forces had been at work to place these people in Dakota at this particular time "40 miles from nowhere"?
In 1882 a number of Evangelical pastors from Illinois, Iowa, Indiana and Wisconsin made plans to plant colonies on the then raw frontier of the plains states. They organized a Colonization Bureau in Chicago. In the fall of 1882 a committee was sent out to visit several western states. They looked over sites in Kansas, Nebraska, Oklahoma and finally, through the efforts of the Northern Pacific Railroad, Dakota Territory. The railroad had just been constructed through this area and the company was anxious to have settlers along the line. The Northern Pacific issued circulars giving information to prospective settlers and offered to transport them to Western Dakota at greatly reduced rates. The railroad company also offered to plot a new city, laying it out in lots, blocks and streets. The Northern Pacific had been granted every other section of land for fifty miles on each side of the right-of-way by the Federal Government and it agreed to donate the lots in the new city and half of the remaining land in Section 21 Township 139 Range 85.
By the end of 1882 some 200 members had signed up. Each group was sponsored by a pastor of their church known as the German Evangelical Synod of North America.
And so it happened that about noon on April 5, 1883 the first immigrant car arrived where Salem was to be located. It was in charge of John Christiansen and contained the household goods, three horses, some lumber and machinery belonging to A.V. Schallern, Peter Schmidt, J. J. Leuck and John Christiansen all of Ripon, Wisconsin. John was the youngest man of the group and volunteered to ride the car to Dakota Territory.
That night, April 6th, the special immigrant train arrived and was set out on the Bluegrass siding a few miles west of Salem. The N.P. built a siding at Salem and soon the cars were moved to the new site.
The organizers of the group were the following ministers: G. L. Kling, M. Hottendorf, H. Wolf, C. Dalies, G. Lambrecht, Gust Lambrecht, R. Kruger and G. Wercker. The elected officers of the group were: C. Dalies, president, H. Wolf, vice-president, and John Seethoff (a layman) secretary. A Location Committee was made up of J. J. Leuck, Pastor Hottendorf, John Seethoff and Fred Wegner.
With the help of the Northern Pacific, the Locations Committee had found the spot where New Salem was to be located. School Hill marked the site.
The group had left Chicago on April 3, 1883 and landed in Dakota on the 6th. In one car were housed the following: Pastor Hottendorf, W.H. Mann, C. Mix, H. Jahnke, C. Stengel, K. Kreidt with family, G. Kreidt with family, N. Kreidt with family, J. Dieder with family. There were about 80 persons in the other cars. They were: Pastor Kling, F. Wiegmann, Wm. Lehfeldt, F. and H. Spinner with families, J. Heid with family, Ludwig and B. Lueder, Wm. Bethke, Richard and wife, Father Loszmann and C. Losmann, H. Jungst, F. Hoeger, M. and J. Blint, C. Korner, F. Westermann and family, H. Friese, A. Toepke, J. Seethoff, A. Von Schallern, P. Bumann, F. Krieger with father and mother, J. Held, C. Kemmesat, P. Schmidt, H. Pfenning, H. Beusen and family, C. Frick, H. Kroeger, H. Techtmeyer, Karl Lueder, H. Luhmann, A. Kunkel, J. J. Lueck, Jacob Fezler, John Kling, Otto Meier, Kasper Bickel, H. Meschede, Anna von Schallern, B. Behrbaum, Louis C. Nohl, Kasper Nuzbaum, Melchior Roth, Fred Toepke, A. F. Itrich, Anton Gnies, Jacob Gerhold, Wm. Kroeger, Friedrich Dettmann, George Speck, Friedrick Uhlmann, George Wasenmuller, John Schedel, August Ruf, Heinrich Simon, John Reuter, Karl Wasenmuller, Moritz Tausend, Karl Keller, Gottlieb Keller, John Hartmann, Karl Witting, Richard Walde, Jacob Ritz, Anton Walde, Gust Itrich, Christian Becker, Anton Sprietzer, Wm. Starck, Wm. Vorpahl, Jacob Wildi, Christof Kleih, and August Weinreich.
It wasn't long before food began to become scarce so it was decided to contact a baker in Bismarck to send out a sack of bread each day, but as the train did not stop at New Salem, it was thrown off as the train went by at full speed. Most of the time there was not enough bread thrown off to go around and many had to go home empty handed. John Seethoff had a hundred pound sack of flour sent out and before long had a regular flour business established.
The colony was still under the supervision of the Committee in Chicago and many of the settlers were dissatisfied with the arrangement. Others were content with things as they were, so before long two "parties" evolved—the local government group and the "status quo" group. In the spring of 1884 an election was held with the following officers being elected: Louis C. Nohl, president; Pastor Gyr, Vice-president; Heinrich Jungst, secretary and J. J. Leuck, treasurer. The election did not settle the trouble so Mr. Kruger was sent out from Chicago. The agreement was made in which the church members took over a $600 debt that was involved and in return for this the colony was to have its "independence. " They were now under township government with J. J. Leuck, L. C. Nohl, and John Bloodgood as the first supervisors.
The pioneers lived in boxcars until the railroad company built an immigrant house. Settlers lived there until they had a shack built on their homestead. The water supply came from a railroad tank car and other supplies were brought by rail from Mandan and Bismarck.
Some lumber was available to build small homes and neighbors helped each other. Sod houses were constructed as a measure of economy and protection against devastating prairie fires.
The first church service was held out of doors on June 13, 1883. The congregation was organized with 46 charter members. The following names appear: J. J. Leuck, John Seethoff, F. Wiegmann, H. Jungst, Wm. Bethke, H. Beusen, H. Maschede, Ferd Reichert, Carl Westermann, C. Koerner, Carl Lueder, Wm Kroeger, Wm Lehfeldt, Aug. Toepke, George Speck, A. F. Itrich, Richard Walde, Carl Ollermann, N. Kreidt, C. Lasemann, Casper Bickel, Anton Walde, C. Tegtmeyer, Emil John, J. C. Kreidt, George Kreidt, Herman Kroeger, Jack Ritz, J. H. Tegtmeyer, L. C. Nohl, Fred Toepke, John Reuter, Herman Freise, Henry Blend, Fred Dettmann, John Kling, P.G. Schmidt, Ed Kemmesat, Fr. Spinner, J. Albrecht, Ch. Wassenmuller, Carl Borchardt, Jack Gerhold, John H. Albrecht, John Christiansen, and Phillip Blank.
The Colonization Bureau had agreed to build the church, parsonage and barn. The first pastor was Reverend Gyr. John Seethoff was given the contract to build the church and parsonage. The church was dedicated late in 1883.
All that summer new settlers were arriving, bringing livestock, machinery, and poultry. Some brought their families.
Mr. J. J. Leuck set up a land office and made out applications for homesteads and tree claims. He owned a horse and buggy, which enabled him to get around more than the average newcomer. He built the first fine residence, now owned by Mr. and Mrs. Richard Wolf.
Some of the settlers were commercially minded, among them being Fred Wiegmann and Wm. Lehfeldt. These two men established a general store. Later the store was rebuilt and operated by Fred and Charles Wiegmann. This location is now occupied by the Farmers Union Co-op Locker Association.
A.V. Schallern and L. C. Nohl. Had the first drug and hardware store. The staple drugs seemed to be arnica, carbolic acid and sheep dip.
A lumber yard and implement business was established by John Seethoff. Hotel accommodations were provided by Wm Lehfeldt in the present residence of George Heid and the Speimer Brothers operated a boarding house.
A fashion note from the "Estelline (Dak) Bell" gives some idea of the "styles" of those days.
"The gun is still worn on the right hip, slightly lower down than formerly. This makes it more convenient to get at during a discussion with a friend. The regular "forty five" still remains a favorite. Some affect a smaller caliber but it is looked upon as slightly dudish. A "forty", for instance, may induce a more artistic opening in an adversary, but the general effect and mortality is impaired. The plug of tobacco is still worn in the pocket on the opposite side from the shooter, so when reaching for the former, friends will not misinterpret the move and subsequently be present at your funeral. It is no longer considered necessary to wait for introductions before proceeding to get the drop……As regards the number of guns which it is admissible to wear, great latitude is allowed, from one up to four being noted on the street and at social gatherings. One or two is generally considered enough."
On one occasion a man got into a quarrel in Lehfeldt's hotel. He drew his gun intending to shoot another party but the bullet hit Mrs. Lehfeldt in the chest. Fortunately she was not fatally wounded.
By the end of 1883 almost all the necessary services for plain living were available in the new town.
In June of that year of 1883 an incident took place that has brought New Salem nation-wide recognition. One pleasant June morning Christiansen was out breaking the virgin prairie sod. As his team slowly pulled the breaking plow back and forth and the black strip of plowed ground grew wider, a couple of Sioux Indians approached and watched with interest the activity of the white man. The Sioux were a good deal tamer at this time than they had been a few years earlier, but they were still unpredictable and John's feelings were not exactly calm. Since there were only two Indians the situation was not as serious as if there had been more. Presently they came nearer and examined the breaking. Possibly this was the first plowing they had seen except the scratching the Mandans did on the river bottoms. Things didn't look right to them and the older Indian began turning the sod back to its original position. As Christiansen came over to them the younger Indian muttered "Wrong Side Up." The efforts of the Sioux in reversing the work of the plow were insignificant and he soon gave up, but the wisdom of his words was to be impressed on Christiansen and his fellow settlers in later years.
New Salem Retail
An all around general store on Main Street. Our store includes furniture, applicances, giftware, Valspar paint, hardare, kitchen ware, toys, farm supplies, fencing, flooring and sturdy products. A wonderful place to browse for that perfect item or a needed repair in your home.
New Salem Salons
Main Street New Salem
Lat:46.8423 Lon:-101.414

Sache Salon 500 Main Ave, New Salem, 701-843-8070
Sache Salon is a full service salon and spa. We offer Fashion Cuts, Multi-dimensional coloring, massage, nail care, facials, waxing and tanning.
Hair Bungalo 516 Main St., New Salem, 701-843-7707
Jeannette's Hair Care, 4195 County 139 Rd (Hwy 10), 701-843-8320
New Salem Services
Rud's Interstate Tesoro-1310 North 8th Street, New Salem, 701-843-7508
This all-around convenience store has Hot Stuff Pizza, deli express sandwiches, automotive supplies, video rental, propane, souvenirs of North Dakota and Salem Sue, ice, bait, ATM, car wash and gas. They serve the only soft serve ice cream in the area and offer large variety of grocery items. It is also the location in New Salem for RV dumping.
Cenex of New Salem - 1309 8th St. N, New Salem, 701-843-7547
Fuel, Gas, Food, Beverages and Liquor
Napa Auto Pars-600 Main Ave, New Salem, 701-843-6272
This business offers auto body repair and a large variety of auto parts.
Ag Vantage Cooperatiave (DFC), 416 North 8th Street, NEw Salem, 701-843-7577 www/agvantageonline.com
Cenex fuel distributer, cropland seed, dekalb seed and Husqvarna retailer.
New Salem Swimming Pool
801 Elm Ave, New Salem
Lat:46.8447 Lon:-101.417

The New Salem Outdoor Swimming pool has entertained young and old for decades. It has a diving board, a childrens wading pool and a new slide. The pool is open every summer from the beginning of June to the end of August. Visit the New Salem Swimming pool to cool off this summer and splash around!
A swimming pool meeting was held in August 1959 to approve the blueprints of the proposed swimming pool. Building started in October of that year. By November of 1959 the NS Community Swimming pool was in its final stages of construction.
June of 1960 the swimming pool was completed and open for the community to enjoy!
New Salem Talking Trail
New Salem ND
Lat:46.8424 Lon:-101.413

Look for signs bearing the Old Red Old Ten logo to visit these New Salem points of interest along the Old Red Old Ten Scenic Byway Trail. Call 701-566-5566, and enter any of the following extensions to learn more about these New Salem sites: City of New Salem - Ext. 201 Salem Sue – Ext. 202 New Salem Golf Course – Ext. 203 Gaebe Pond – Ext. 204 First Presbyterian Church – Ext. 205
New Salem Veterans Memorial
400 Main Ave, New Salem
Lat:46.8424 Lon:-101.412

This beautiful memorial was built and is maintained by New Salem's American Legion. The walls are filled with all local military past and present. Look through this amazing list and find one of your loved ones. This memorial is dedicated to all that have served for our country.
North Dakota Railroad Museum
3202 37th Street Northwest
Mandan, ND 58554
Phone: 701-663-9322
Lat:46.8589 Lon:-100.932
www.statesymbolsusa.org/North_Dakota/Railroad-Museum.html

The Mandan railroad museum was designated the official state railroad museum of North Dakota in 1989. Large and small railroad artifacts fill all corners of the museum, demonstrating the uniqueness of items designed and made specifically for the operations of the railroads.
Established in 1972 to maintain the history of railroading in North Dakota and operated by the Railroad Museum Historical Society of Morton County, the Mandan railroad museum features (condensed from Yahoo! geocities):
A unique display of HO model 'hopper cars' (from the collection of Dr. Kenneth J. Johnson of Bismarck, ND). The idea for the collection arose out of the grain car shortage in the Midwest and upon seeing different hopper cars in his travels. Dr. Johnson would photograph them, record all the actual identification information and then model a reproduction. In his collection there are more than 200 different 'hopper cars' representing the elevator companies that purchased them
A special collection of 'Timetables' which reflect many of the nations railroads at the peak of passenger service in the United States.
An extensive collection of photographs from the camera of Ron V. Nixon (a longtime Northern Pacific dispatcher). The pictures feature all the different classes of Northern Pacific steam power, North Dakota scenes, and pictures from the Milwaukee Road, Great Northern, and Soo Line.
Old rolling stock, and assorted railroad memorabilia.

Old train caboose photo © Tom Haymes on
Flickr
-
noncommercial use permitted with attribution / share alike
Displays & Artifacts:
BN yard mule, 16 ton
SOO caboose #282, wood, built in 1913.
BN caboose #10411, steel, ex CB&Q
BN caboose #12591, steel, ex GN X-73
SOO 40' tank car #22511, single dome, built in 1923
SOO 40' box car #135452, wood, built in 1928
NP 60' flat car #64027, built in 1949
NP 40' box car #202124, steel
NP 40' refrigerator car #92105, wood
NP 40' box car #14303, wood
NP 36' box car #37713, wood
NP semaphores
SOO/NP 'smash boards' from the diamond in east Bismarck, ND.
SOO speeder shacks from Bismarck, ND
NP speeder & push cart
On-A-Slant Mandan Indian Village
4480 Fort Lincoln Rd
Mandan, ND
7 miles south of Mandan on Highway 1806
Lat:46.7661 Lon:-100.848
www.fortlincoln.com

The On-A-Slant Indian Village is a 400-year-old Mandan Indian Village, which thrived for 200 years. The Mandan were hunters and gardeners who lived in permanent villages. Five reconstructed earthlodges. Located Lofdsdf fdsLoLocated 7 miles south of Mandan on Highway 1806.
Daily 9 a.m.-7 p.m.; reduced hours in spring and fall
Adults $6, students $4 plus state park entrance fee of $5 per vehicle
Phone: 701-667-6380
Patterson Lake Recreation Area
Prairie West Golf Course
2709 Long Spur Trail
Mandan, ND 58554
Phone: 701-751-6171
701-667-3222

Lat:46.8267 Lon:-100.89

Prairie West Golf Course, located at 2709 Long Spur Trail across the road from Dacotah Speedway, is now one of the premier 18-hole championship public golf courses in the state. Mandan Park District offers the golfer private course amenities at public course prices. Prairie West takes pride in being "The first to open and the last to close" golf course.
Operational Season - Early to mid-April through November, weather permitting.

Daily Hours - Open daily from sunrise to sunset. Weather conditions will effect hours the courses are available. Contact the course for more information.

Tee Time Reservations - Reservations for tee times can be made up to three days in advance by calling the course.

Raging Rivers Waterpark
2600 46th Avenue SE
Mandan, ND 58554
701-663-3393
Lat:46.7994 Lon:-100.83
ragingriverswaterpark.com/

A free-flowing man-made endless river with everything from calm relaxing waters to thrilling waves...so jump aboard an inner tube and float around this 800 -foot waterway.


This interactive water play area features geysers, water cannons and water slides just for the little ones. Families love this attraction. The little members of the family will spend hours exploring all the different interactive elements. Turn a wheel, pull a knob, and push a lever and something fun and wet happens.




Standing 66 feet above the park, the two speed slides provide the ultimate thrill for park guests to enjoy. Take the plunge, as you start off in total darkness and when you see daylight, you drop straight down in what feels like total free fall. You will scream as you speed down the double drop speed slide; each drop gives you the thrill of being airborne.



Grab a tube and splash down the 45-foot high Raging River Rapids, where water rushes over your body with each curve and bend of the slide. Enjoy the white water rafting experience as your tube plunges over dips and curves in the rapids, spiraling you down to a big final splash.


Climb aboard a single or double inner tube, and rocket down the 45-foot high Twisting Tube Slide. Twist and turn, splash and slide into total darkness, and emerge into daylight as you shoot towards the bottom of the slide, ending in a scream of sheer exhilaration.

* Raging Rivers and the Mandan Park District is firmly committed to the safety and well being of every guest.
* Every lifeguard is trained to Red Cross standards. Every Raging Rivers staff member goes through training to perfect CPR skills.
* Life vests are available throughout the park at the First-Aid stations.
* Nylon swimsuits are recommended; however, a variety of swimwear and casual attire is acceptable at Raging Rivers. Denim, cut-off shorts or long pants are not permitted on the slides.
* Only guests wearing swimsuits may ride the slides.
* Absolutely no exposed buckles, zippers, rivets, or metal ornamentation.
Red Trail Links and Club House
There is not a driving range, however, there are clubs available and a limited number of carts for rental. Membership for the Club is $200 single and $250.00 for a family. One can play all day for $15.00
Sitting at the base of Salem Sue, the Red Trail Links was built in 1928 and is a 9 hole course. Some of the early residents of New Salem; namely, Fred Mann, Dr. O. C. Gaebe, George Gaebe, Dr Toepke, George Blank, Phil Blank, and Mr McCormack built and designed the course and were some of the first members. There were 16 charter members and dues were set at $10.00 with $5.00 annually thereafter. By the end of 1929, there were 41 members. Membership dropped during the "Dirty 30's" but began to rise again in the 40's. The building of the course and maintenance has been a volunteer effort. For many years the course had sand greens and in 1996-1997 Roger "Gus" Holle designed and orchestrated the building of the grass greens. It is par 38 and plays to a length of 2955 yards. A tree project was begun in 1981 with the moving and planting of 81 trees. Since that time Gus Holle has planted more than 500 trees on the course.
The first clubhouse was an old schoolhouse moved to the course on hole #6 in 1940. Another clubhouse was moved in to replace the first one in 1960. And the latest, present clubhouse was built in 1971. Gus and Rosalie Holle have a deep passion for the course and have put in hours and hours of care. Trees, flowers, tee signs, birdhouses, and rock formations adorn the course with some benches and shelters as well.
Richardton History
Lat:46.8839 Lon:-102.316
www.richardtonnd.com

A community of over 800 people, Richardton is home to the Assumption Abbey and the Old Red Trail Ethanol Plant.
The railroad established a station named Spring Valley in 1881. In 1882 the C.P. Richards Co. of New York decided to buy the land and plat a town on the site. The C.P. Richards Co. was a passenger agent for the Hamburg-American Steamship Lines, hoping to settle the town with immigrants from Germany. The NP Railway and C.P. Richards Co. platted the town in 1883 and renamed it Richardton. The concept of bringing in twelve pre-fabricated homes, two stores, a church, schoolhouse and a hotel, all pre-cut and ready to erect attracted immigrants. The C.P. Co. idea was to settle them immediately as they arrived off of the NP Railway. The buildings were painted green with red roofs, a fact reference often in correspondence of early residents and visitors.
Young Man's Butte, located just to the east of Richardton, received its name from an Indian legend. Rain-in-the-Face, a Sioux warrior, told the story: "The Sioux fought and killed 106 Crow Indians who were hunting here. One of the Crow hunters escaped with his pony to the top of this butte. Here he taunted the Sioux Indians by dancing and singing his death song, calling out that no Sioux would ever kill him. As the Sioux warriors advance to the summit of the hill, the Crow stabbed his pony and them himself. To the Sioux, this act showed supreme courage. They buried him on this butte with honors and named the place, "Young Man's Butte."
Richardton Swimming Pool
325 E. North St.
Richardton, ND 58652

701-974-2464
Lat:46.8859 Lon:-102.31

A fun outdoor swimming pool with a waterslide and a diving board. Also includes a baby pool.
Richardton Talking Trail
Richardton ND
Lat:46.8864 Lon:-102.315

Look for signs bearing the Old Red Old Ten logo to visit these Richardton points of interest along the Old Red Old Ten Scenic Byway Trail. Call 701-566-5566, and enter any of the following extensions to learn more about these Richardton sites:
City of Richardton - Ext. 601
Assumption Abbey – Ext. 602
Sacred Heart Monastery – Ext. 603
Schnell Recreation Area – Ext. 604
Rough Rider Statue
Intersection of Main Street and Third Avenue
Mandan, ND
Lat:46.8257 Lon:-100.894

The "Theodore Roosevelt Roughrider" statue portrays North Dakota's most famous adopted son as colonel of the regiment he commanded in the Spanish-American War. The sculptor, Alexander Phimister Proctor, was born in Canada and raised in Colorado. Alexander Proctor was a contemporary of Frederic Remington and Charles Russell. He dedicated his life to creating monumental statues throughout the United States. Alexander Proctor met Theodore Roosevelt at the 1893 World's Fair. Roosevelt commissioned Proctor to make several sculptures for the White House during his presidency. According to the Inventory of American Sculpture, the Mandan sculpture is a smaller version of the one commissioned by Dr. Henry Waldo Coe for the City of Portland. Coe met Theodore Roosevelt while living in the Dakota Territory, and the two formed a long-lasting friendship. Dr. Coe was Mandan's first elected mayor and represented the city's residents in the last territorial legislature in 1885. While he commissioned the original statue for Portland, he later presented this smaller version to the City of Mandan. The statue was designed with the approval of the Roosevelt family. Edith and Kermit Roosevelt found the uniform Roosevelt wore at San Juan Hill rummaging through family trunks, and furnished it to Proctor to use in casting the statue. Roosevelt's widow Edith and all five of his surviving children and spouses attended the dedication. The statue was cast in 1922 at the Roman Bronze Foundry in New York and dedicated on July 2, 1924. It was originally installed along Main Street in the center of the eastside depot park. It was moved to its current location centered on the intersection of Main Street and Third Avenue in 1930 in conjunction with the construction of the current depot in 1930.
Sacred Heart Monastery
8969 Highway 10
Richardton, ND 58652-0364
Phone: 701-974-2121
Lat:46.8939 Lon:-102.345

History:
As the number of Sisters increased, the community branched out into health care ministry by opening St. Luke's Hospital in Crosby and St. Vincent's Home for the Aged in Bismarck. Once again, the Sisters decided to transfer their motherhouse to a more advantageous locality, this time to the perimeter of the city of Minot in 1942, where they were also able to operate a small farm. They soon built a combination convent and boarding school for girls which prospered from 1949 to 1965. The Sisters also responded to the current invitation of the Church to send missionaries to South America by opening a school for girls in Bogota, Colombia (1962-75).
Always ready for new ventures, the Sisters once again focused their sight on a new location for the growing community. In 1967, they relocated near Assumption Abbey in Richardton, where they were offered opportunities for spiritual formation, sacramental services, and daily Eucharist from the monks of the Abbey.
The scope of ministries for the Sisters also expanded from education and health care to greater involvement in various areas of spirituality, parish ministry, and chaplaincies. Always alert to the needs of their time and place, the Sisters focused on housing for the elderly by founding Marillac Manor in Bismarck with 78 apartments and Subiaco Manor in Dickinson with 10 apartments.
The new monastery near Richardton, located on a quiet, contemplative site on the prairie, has incorporated an ecumenical retreat center, where individuals and groups are welcomed the year round. The Sisters have an active prayer ministry responding to requests for prayers that come by letter, phone, e-mail, and internet.
Capitalizing on their rural location, the Sisters procured their first llamas in 1994, and have continued raising and selling them through the years. The wonderful llama fiber has prompted a small cottage industry in wool works. Pioneers in wind energy in North Dakota, the Sisters installed two wind turbines in 1997 to supply energy for the monastery.
What is the next move for this community? If the future reflects the past, the community will continue to journey in faith, respond to the needs of the locality, and move on to new ventures wherever God may lead them.
Sacred Heart Monastery Llama Wool Products
8969 Highway 10 W
Richardton, ND 58652

701-974-2121
Lat:46.8866 Lon:-102.33
www.sacredheartmonastery.com/our_community/llamas-llama-wool.php

A number of Sisters have found a role in a mini fiber business. Various sisters spin, some felt, and some weave. The fiber from our llamas is abundant and we sell llama fiber in rovings, battings and spun yarn.
They can make individual skeins of yarn to your specification. We also sell llama wool items made by the sisters such as pouches (great for change purse or rosary), felt purses, neck scarves etc.
They also periodically give workshops on contemplation and spinning.
If you would like to place an order please contact Sr. Patti.
Phone: 701-974-2121
Email: woolworks@sacredheartmonastery.com
Salem Sue
Traveling down Old Red/Old Ten can be fun and interesting with its many roadside attractions; however, near New Salem there is an unexpected treat in store for travelers. Here, vacationing families can take a break and visit Salem Sue, the World's Largest Holstein Cow!
The cow was built in 1974 and is situated on the School Hill. She is constructed of reinforced plastic fiberglass by Sculpture Mfg. Co. of LaCross, Wisconsin and is 38 feet high and 50 feet long and weighs 12,000 pounds. Salem Sue is a project of area dairy farmers and local residents and sponsored by the New Salem Lions Club. Its primary purpose is to honor and advertise the dairymen of our area, their superior herds and the production of high quality milk. It also promotes tourism, business, and education of our youth of the benefits and qualities of living in a rural community.
The history of the Holstein cow goes back to 1906 when Dave Young introduced the Holstein breed to the area. Mr. Young was New Salem's first buttermaker and later the owner of a creamery in Youngtown, a settlement north of New Salem. He was dissatisfied with the quality of dairy cattle available and he went to Wisconsin and returned with two railroad carloads of pure-bred Holstein cattle. Through his efforts, the Holstein cow has become the most popular dairy animal in this area. The Holstein circuit, was first organized in 1908 to encourage better breeding and increased production, resulting in a stable, high income for farmers in the sale of milk, cream, breeding and production stock.
Salem Sue has been a star many times over the years. In 1990, Stoh's Beer film crew arrived in New Salem and did some filming for their commercials as the Cow as the backdrop. In 1993, Salem Sue was highlighted in Automotive Magazine. She also appeared in Worksave Magazine, a publication of Melroe Company. 1993 was a good year as the television shoe, "America's Funniest People", made New Salem Sue one of their taping stops. Many New Salem folks got in on this act as they stood in front of Sue and told "udderly" favorite "cow" jokes. In 1994 she was pictured with other monstrous fiberglass construction in American Way magazine. She has been featured in the Yakama Herald Republic, Successful Farming, Harper's Magazine, NBC's TODAY Show, and Midwest Mavels. Independent film makers marvel at Sue and tour groups are beginning to make stops to see her. If you are in the Denver Airport, look for the large map of the United States and North Dakota is represented by Salem Sue. AND, the New Salem sports teams are called the Holsteins.
From afar, she can be seen for miles because of the spotlights on her. During the past years a plaque was erected to tell her story and tables and benches were built. In July during New Salem's annual Cow Town Hoe Down Celebration, "Breakfast Under the Cow" is served on Saturday morning by the local Lion's Club. (Upwards of 250 people are served every year.) The early morning views and sunrises will be remembered forever.
Schnell Recreation Area
Travel along Highway 10, and 1 1/4 mile east of Richardton there will be a sign Schnell Recreation Area. Travel 1 miles north following the curve to the right, and go 1 mile east to the parking area.
Lat:46.8758 Lon:-102.193
www.mt.blm.gov/ndfo

Schnell Recreation Area has six primative camp sites with picnic tables, fire rings, grills, potable water and toilets. The sites are available for up to two weeks for $5 per night.
You can follow a 1.5 mile nature trail or take a self-guided tour if you are interested in prairie flora and fauna. If you would rather make your way to uncharted parts of the recreation area, feel free to hike cross country.
Be prepared to see diverse wildlife and plant communities. There are native prairie and riparian areas, rangelands, wetlands, and hardwood draws where centuries-old bur oaks thrive.
More than 100 species of birds are found in this part of North Dakota. Ducks, ring-necked pheasant, sharp-tailed grouse and turkeys are common. Bluebirds, warblers, finches and other migratory birds are also plentiful.
White-tailed and mule deer, porcupine, rabbit, raccoon and squirrels also call this area home.
Schnell is ideal for horseback riding, cross-country skiing, berry picking, mountain biking, picnicking, nature study and photography.
Bureau of Land Management
99 23rd Ave. W., Suite A
Dickinson, ND 58601
701-227-7700
Sims Scandinavian Lutheran Church
Approximately 6 miles south of the Byway on the Almont Exit. Look for Sims Church sign on the right side of the road.
Sims, ND
Phone: 701-843-7634
Lat:46.7704 Lon:-101.496

The Scandinavian Evangelical Lutheran Congregation of Sims was organized in 1884 by a grouop of Scandinavian immigrants and Reverend O.J. Norby. The first structure built was a parsonage with living quarters on the first floor and meeting space on the second floor. In the early 1900's a new wood-frame structure was built to serve the congregation. Although most of the families have moved away from Sims, the church continues to be used by the mostly rural congregation.
In 2006, after the Sims Parsonage had born extensive deterioration and stood empty for 25 years, the Sims Historical Society, in cooperation with Preservation North Dakota, began its restoration. With fifty thousand dollars in grant money from PND matched by the Sims Church and over two thousand hours of volunteer labor, the project was completed in 2007. On October 2, 2008, the Sims Scandinavian Lutheran Church was visited by former First Lady Laura Bush. North Dakota was the last state she visited and she remarked, "I have saved the best for last." Mrs. Bush was the honorary chairperson of the Save America's Treasures program, which provides funds for restorations of historic sites. The parsonage in Sims was selected personally by her.
Phone: 701-843-7634
St. Annes Catholic Church
204 Park St. S
Hebron, ND
Phone: 701-878-4658
Lat:46.8995 Lon:-102.045

St. Anne's Catholic Church in Hebron, ND holds regular services.
Welcome to Hebron, ND
St. Clements Church Haymarsh Rural Glen Ullin
Located 11 miles Northwest of Glen Ullin. From Interstate 94, take Exit 108, drive 4 miles NW, turn west 1.4 miles, turn north 2 miles.
Lat:46.9417 Lon:101.884

Founded by German and German Hungarian immigrants, the community still celebrates an annual corpus christi procession.
St. Elizabeths Queen of the Prairie Church
16827 50L St. SW, Lefor, ND

Lat:46.6817 Lon:-102.563

German-Hungarian immigrants built this church which is know for its pipe organ and its bells which come from Barat, the home of many of the first parishioners.
St. John Church
620 Church Ave.
Hebron, ND 58638
Phone: 701-878-4011
Lat:46.9034 Lon:-102.047

This congregation was first organized in 1885 as the Deutsche Evangelical St. Johannes Kirche under the Evangelical Synod of North America. The first wood-frame church, completed in 1886, was replaced with a stone and brick church in 1908. Services were held in German until 1929 when they began holding alternate services in German and English. In 1957 the Evangelical and Reformed Synod of North America united with the Congregational Christian church to form the United Church of Christ. This church is listed on the National Register of Historic Places.
St. Johns Lutheran Church
146 6th Ave. W., Dickinson, ND
Phone: 701-225-6747
Lat:46.8806 Lon:-102.794

St. John's owes its existence to several Minnesota Geman Lutherans who arrived in Dickinson in 1901. The first worship services of St. John's Lutheran were held in 1903 and the first structure constructed by hand in 1906. The present church was constructed in 1948 at the corner of Sixth Street and Second Avenue.
St. Joseph Catholic Church
108 3rd Street NE
Mandan, ND 58554
Phone: 701-663-9562
Lat:46.8298 Lon:-100.889
www.stjosephmandan.com/

Designed by Anton Dohmer of Milwaukee in a blend of Gothic and Romanesque styles, this brick church was built in 1904. It was built to replace an earlier wood-framed building completed in 1881. The parish was first organized in 1879 to serve the Irish immigrant popluation building the Northern Pacific Railroad. The church features 12 stained glass windows and wall and ceiling murals. Many of the inscriptions stenciled inside are written in German. The cornerstone holds a tin box containing relics from Rome, Bethlehem, Jerusalem, the Mount of Olives, the River Jordan and Lourdes in France.
St. Josephs Rural Glen Ullin
Located 12 miles south on Highway 49 and 5 miles east of Glen Ullin. This church has a few summer services.
St. Patricks Church
229 3rd Avenue W.
Dickinson, ND

The Irish immigrants traveling west with the Northern Pacific Railroad helped establish the first Catholic Parish in Dickinson in 1885. The "Little White Church on the Hill" was replaced in 1904 with a new brick building and then as the congregation grew, in 1950, with the present building which underwent a major renovation in 2005.
Sullys Heart River Corral State Historic Site
14 miles southeast of Richardton, ND
Phone: 701-328-2666
history.nd.gov/historicsites/sibleysully/shrc.html

This site marks a base camp established by General Alfred Sully during his 1864 campaign. Rifle pits were dug around the circled wagons but the camp was never attacked, Many rifle pits are still visible. There is a marker on this site.
On July 19, 1864, General Alfred Sully led his expedition away from the skeletal outlines of the newly established Fort Rice with a wagon train of immigrants en route to the newly discovered gold fields of Montana (see Fort Rice). To continue his pursuit of the Dakota (Sioux), Sully left the immigrants and a military guard behind at the Heart River. The frightened gold seekers dug rifle pits to protect the wagon train from attack. Remnants of these pits are still visible twenty miles southeast of Richardton, Stark County.
The purpose of the military expedition was to scout the Cannonball River for signs of the Dakota who had escaped from the confrontation at Whitestone Hill (see Whitestone Hill), but the troops were given the added responsibility of protecting the immigrant train. This angered Sully because the train's slow-moving ox-teams impeded the movements of his troops. He also resented the loss of the four hundred soldiers he felt obliged to leave behind for their protection.
Called the "Tom Holmes Expedition" after the man who had organized it, the immigrant train had 123 covered wagons drawn by teams of oxen. The wagons carried between 250 and 500 men, women, and children. A "captain-general" led the train, which was grouped into six divisions, each under its own wagonmaster. A "court" had been elected to deal with any legal matters, and a sheriff, postmaster, and a chaplain served other communal needs.
As the column marched west, rumors of Indian sightings and impending dangers kept the party watchful. Eventually, the expedition's scouts reported a large encampment of Dakota at Killdeer Mountain, fifty miles north of the current route.
On the evening of July 24, the expedition reached the Heart River. Sully decided to leave the immigrant train and his own supply train beside the Heart River under the protection of a strong guard. The remainder of the expedition would march quickly to the reported Indian village before the Dakota could escape. Accordingly, July 25 was spent resting men and animals, redistributing supplies, and preparing for the march ahead.
After the departure of the troops on July 26, the people of the wagon train spent five anxious days awaiting the return of Sully's forces. First, they began to fear that a small force of Indians would decoy Sully far away so that the main force could wipe them out and capture the army's supplies. Therefore, the party crossed to the north side of the river and formed the wagons into a corral surrounded by rifle pits and entrenchments. One day the expedition's mules stampeded but were recaptured. On another occasion, nervous guards rousted the men out of their beds at about 11:00 p.m. and called them to the rifle pits where they stood watch for the rest of the night. As a final precaution, the defenders made a "cannon" by hollowing a large log and reinforcing it with iron bands. Several practice shots proved the cannon worked and all felt a bit safer.
Sully's troops fought the Dakota at Killdeer Mountain and returned to the Heart River encampment on July 31 (see Killdeer Mountain Battlefield). Upon their return, the troops spent two days resting while the officers wrote their battle reports and planned the next move. On August 3, Sully's expedition, troops, train and all, again started westward to complete the summer's planned campaign.
Sully's Heart River Corral State Historic Site is undeveloped and lacks a parking lot, directional signs, or any other facilities. It does feature a pristine setting and original rifle pits. A site marker sits in a pasture one-eighth mile east of the road. The rifle pits are to the north and to the east of the marker.
Phone: 701-328-2666
Sweet Briar Lake
1 mile north of the Judson exit on County Road 84 right off of the Old Red Trail
Lat:46.869 Lon:-101.269

This beautiful lake and campground has public boat ramps, 2 boat docks, 3 fishing piers and 6 picnic shelters (reservations are available). No wake speed for boats is allowed on this lake. There are paved and graveled roads throughout the park. There are also primitive camping locations around the lake for you to utilize. The camp sites do not have sewage disposal or electricity access.
This lake is stocked with walleye, yellow perch and crappie bluegill for your fishing enjoyment.
Taylor History
Taylor is a small prairie town with a long history relating to agriculture and the railroad. Taylor was founded in 1882 along the transcontinental rail line of the Northern Pacific Railway, and was developed as a railroad town due to the requirement for a 'railroad service station' every ten to fifteen miles. The town name comes from David R. Taylor, a railroad official in Mandan. Several large fires in its early days arrested the continued growth of the town.
Today Taylor is recognized for the annual 'Horsefest' celebration held annually the last Saturday in July. It is a celebration of the pioneer days in the area when all farm work was done with horses. Activities on that day include a "horses only" parade, displays and demonstrations with horse-drawn equipment, metal-working in an old-time blacksmith shop, country music, craft booths, and games and events for children.
The Taylor Lions Club has constructed a public picnic shelter, a kitchen with a char-broiler and public restrooms on the west edge of Taylor on the Horsefest grounds. The kitchen is available for family reunions and other group events.
Taylor 'Good 'Ol Days' is an event held annually the second weekend in September. The kick-off activity is an 'Antique Tractor Trek' on Saturday of that weekend. On the Sunday following, there are harvesting demonstrations including horse-drawn binders, headers and tractor powered threshing machines.
Taylor Nursery
Taylor Talking Trail
Teddy Roosevelt Monument
401 West Main
Mandan, ND
Lat:46.8258 Lon:-100.894
www.welchdakotapapers.com/2011/08/dedication-of-teddy-roosevelt-monument-mandan-nd-july-4-1924/

Dedicated in 1924, the Teddy Roosevelt Monument still stands in front of the Railroad Depot in Mandan, ND.
Theodore Roosevelt Center
Trail of Tears Sculpture
611 6th Ave. & 3rd St., Mandan, ND
Lat:46.8267 Lon:-100.89

The "Trail of Tears" sculpture was created by sculptor Peter Toth, and dedicated on November 24, 1981, in remembrance to a proud and noble people. The statue is located at the corner of Sixth Avenue and Third Street, in front of the Stage Stop. It stands twenty-five feet high and is carved from a cottonwood. Featuring the head of a Native American Indian, it is attached to the octagon-shaped base with eight large bolts, visible through a gap between the two. The Indian has high cheekbones, hook nose, circular medallions around his neck, and a headband with two tiers of feathered plumes on top. The head is of no particular tribe but is a composite of all the Indian tribes whose history is part of the state's history - Mandan, Sioux, and Chippewa. Peter Toth completed his first sculpture, of stone, in La Jolla, California in February 1972. The sculpture of a Native American head, measuring nearly 6 feet in height from chin to forehead, was carved into a sandstone cliff located between Marine Street and Windansea Beach, and represented three months of work. Thereafter, he decided to embark upon a journey to create a sculpture in each state. His second sculpture was located in Sand Run Metropolitan Park in his hometown of Akron, Ohio. Since then, he has completed a statue in each of the 50 states, and in several provinces of Canada.
Ukrainian Cultural Institute
The Ukrainian descendants of Dickinson might be a minority, but they have continued to play a big part of the cultural heritage of the city. Each July, the Ukrainian Festival is held in Dickinson and in the nearby town of Belfield. The three day event celebrates and educates the public with a variety of customs, including the display of the Easter Eggs, "Pysanky" (peh-san-keh), and a performance by the Stepovi (step-oh-vee) Dity (dih-tee) Dancers.
The Ukrainian Cultural Institute also offers a Learning Based Vacation, teaching the art form of producing the unique eggs, in an expression of your own personal design. For more information, please visit www.ucitoday.org.
United Church of Christ
102 4th St. W., Dickinson, ND
Phone: 701-225-8713
Lat:46.883 Lon:-102.788

The congregation was organized in 1887 and the cornerstone of the present church was laid in 1924.
West River Community Center
Young TR Enters the Arena
291 Campus Drive
Dickinson, ND

The bronze sculpture, "Young TR Enters the Arena," was commissioned by the Theodore Roosevelt Center at Dickinson State University, to commemorate Roosevelt's first great national speech, delivered at this site in July of 1886.
The Theodore Roosevelt Center houses a digital presidential library of personal letters, diary entries, cartoons, newspaper columns, photographs and magazine articles by and about Theodore Roosevelt. . Visit the Theodore Roosevelt Center online at www.trcenter.org or on the campus of Dickinson State University at 291 Campus Drive.